This article was updated to support v11.8 and newer of Goliath Performance Monitor.
Prerequisites
Before continuing, please review the Goliath Performance Monitor Prerequisites.
Monitoring Configuration
This section will walk you through the discovery and configuration process for adding VMware vSphere ESX/ESXi and its subsequent virtualized guest machines and storage to your Goliath Performance Monitor inventory.
Note: It is recommended to begin by configuring your virtual hosts (vSphere ESX/ESXi) before deploying Agents. This will populate your Goliath Performance Monitor inventory with all the relative guest VMs and storage per host.
From the 'Configuration Wizard', select the icon for 'Virtual Server'

This wizard will launch by default on a brand new installations of Goliath
If this is not a first time installation of Goliath, you can get to the Configuration Wizard by going to 'Settings' in the top right hand corner, and then selecting 'Configuration Wizard' under the 'Inventory' Section

Check 'VMware

and then select the

'Next'

button

You will be prompted for the connection information on the 'Provide Credentials'

page

Select 'Next'

once completed

Use the selection boxes to chose the 'Hosts'

that you wish to monitor and select

'Next'

Select the option 'Finish'

and then

'Next'

. Then

'Finish'

again to return back to the

'Monitor Dashboard'

screen

To add additional Virtual Environments by selecting 'Repeat Virtual'

to repeat the wizard steps.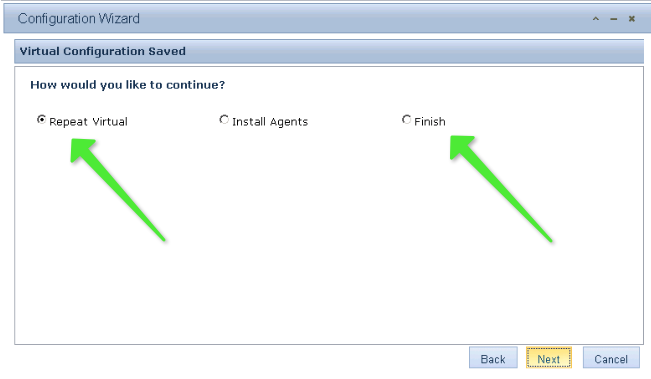 Post Configuration: What's Next?
After completing the configuration of VMware vSphere the technology will automatically take you the Dashboard>Dashboard page where you can start using the technology to monitor you environment. Please note, it may take about 3-5 mins for your entire VMware vSphere environment to populate into the technology. You will need to refresh the screens in order to see inventory updates.
Please see the appropriate sections below for configuring your Citrix Virtual Apps & Desktops, VMware Horizon or Epic System Pulse environment(s) if applicable.
Application & Desktop Virtualization Monitoring
Healthcare Monitoring