Issue:
There are no logon duration metrics displayed on the Summary and Logon tabs fo Citrix session drill downs, as well as "0s" is reported on the session display.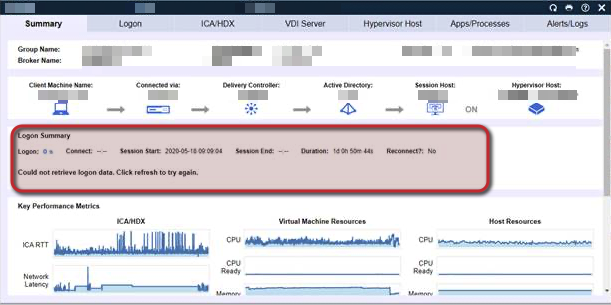 Troubleshooting Steps:
Confirm that this is not a reconnected sessions, LOD metrics are not guaranteed for reconnected sessions.
Confirm the length of the session, has it been established for more than 5 mins? It can take about 3-5 mins after the session is established in order to see these metrics. If the session has been established for more then 5 mins, please proceed. If not, give it some more time.
Enable Agent Logging on the Delivery Controller where the Citrix API is enabled and then Restart the Agent Service (wait at-least 15 mins to let the logs collect)

For full instructions please reference the article Goliath Server and Agent Logs

Confirm if "Citrix Profile Management" is enabled, this is required for Logon Duration Metric collection
If using Citrix Director, confirm if the metrics is missing there as well. If so, this indicates that there is an issue with your Citrix deployment and the ODATA database. Please log a ticket with Citrix for further assistance.
If none of the above resolve the issue, please open a support ticket.