This article was updated to support v11.8 and newer of Goliath Performance Monitor.
Prerequisites
Before continuing, please review the Goliath Performance Monitor Prerequisites.
Configure Monitoring
This section will walk you through the discovery and configuration process for adding Hyper-V Hosts and its subsequent virtualized guest machines to your Goliath Performance Monitor inventory.
From the 'Configuration Wizard' , select the icon for 'Virtual Server'

Please note, you can get to the Configuration Wizard by going to 'Settings' in the top right hand corner, and then selecting 'Configuration Wizard' under the 'Inventory' Section.

Check 'Hyper-V and then select the 'Next' button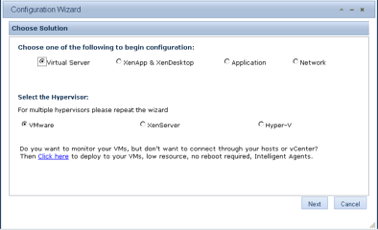 You will be prompted for the connection information on the 'Provide Administrator Credentials' page: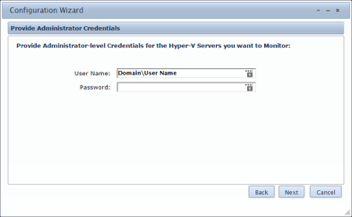 Select 'Next' once completed
Choose the method to identify which Hyper-V Hosts or VM's that you'd like to monitor & click Next

If adding 3 servers or less, the manual option may be quickest, especially if you already know the hostname or IP
If adding 4 or more servers, the active directory option may be fastest
Follow the below steps for the 'Manual' option, for the 'Active Directory' steps please skip to step 7

Click the 'Add' button on the left hand side to add a host or VM
Enter in the server name, IP address, and an optional description and click 'Apply'
Repeat this process for all of the hosts and VM's that you'd like to add
If you need to edit a previous entry click 'Edit'
If you want to remove an entry click 'Delete'
When finished click 'Next'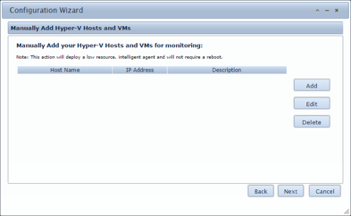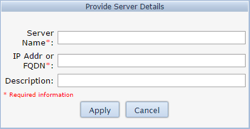 Follow the below steps for the 'Active Directory' option

Expand the tree to find and select the hosts/VM's that you would like to add
When finished click 'Next'

The agent will now proceed to deploy to your Hyper-V Hosts and VM's. When it is complete you will see a confirmation message. Click 'Next' to continue
The Save and Finish screen will now appear. To add more items to your inventory select 'Configure More'. Or select 'Finish' to return back to the 'Monitor Dashboard' screen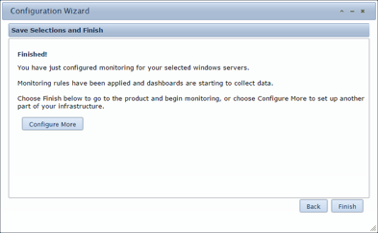 Post Configuration
Now that the above steps are completed, the agent should now be installed and connected to your Hyper-V hosts and VMs. With that said, the out of the box monitoring Windows Health monitoring is enabled. Please see additional documentation for enabling alert notifications and creating additional monitoring.