The End User Experience Score template includes two scorecards, Citrix End User Experience Score and Citrix Logon Duration Score, that provide an at-a-glance view of the health of your end user experiences across your entire environment.
Citrix End User Experience Scorecard
Based on industry best-practices and displayed using a scale of 0-100 (where 100 is best), overall score and individual end user experience metrics scores can be viewed quickly to understand which users may be experiencing issues over the selected time period.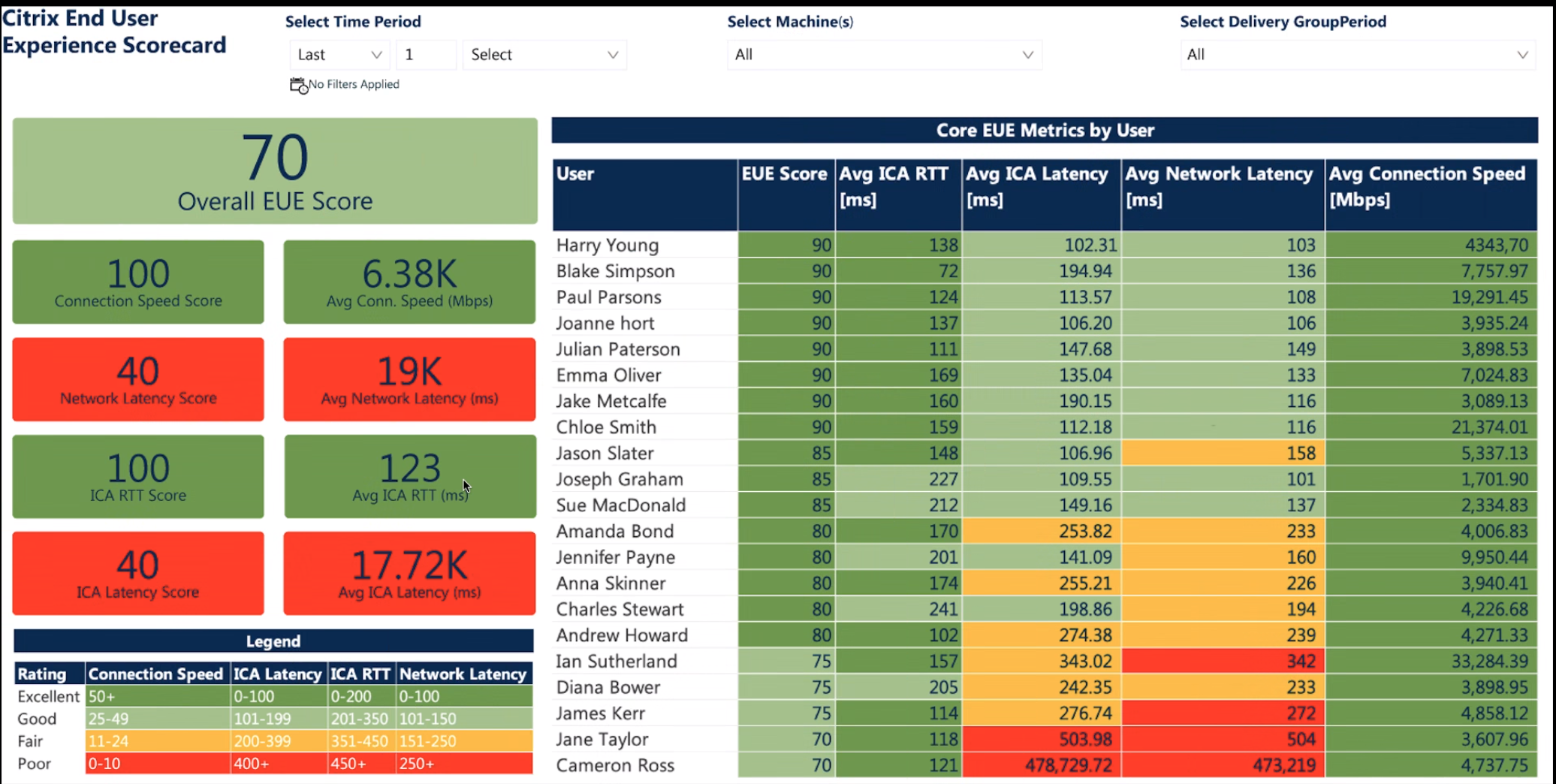 Figure 1 - EUE Score Report
Color-coded categories reveal bottlenecks in your environment enabling you to understand quickly what's causing end user experience issues.
Scoring
All scores are generated on a scale of 0-100 with scores in the Excellent range for each metric earning the highest value.
| | |
| --- | --- |
| Metric | Description |
| ICA Round Trip Time (ICA RTT) | Displayed as milliseconds, round trip time between 0ms and 200ms generates an excellent score (100) score. |
| ICA Latency | Displayed as milliseconds, round trip time between 0ms and 100ms generates an excellent score (100). |
| Network Latency | Displayed as milliseconds, round trip time between 0ms and 100ms generates an excellent score (100). |
| Connection Speed | Displayed in Mbps, any connection speed over 50Mbps will generate an excellent score (100). |
Citrix Logon Duration Scorecard
The Logon Duration Scorecard displays average Logon Duration values for initial and reconnected sessions.
Logon times that fall outside acceptable ranges are highlighted for quick identification based on a configurable ratings scale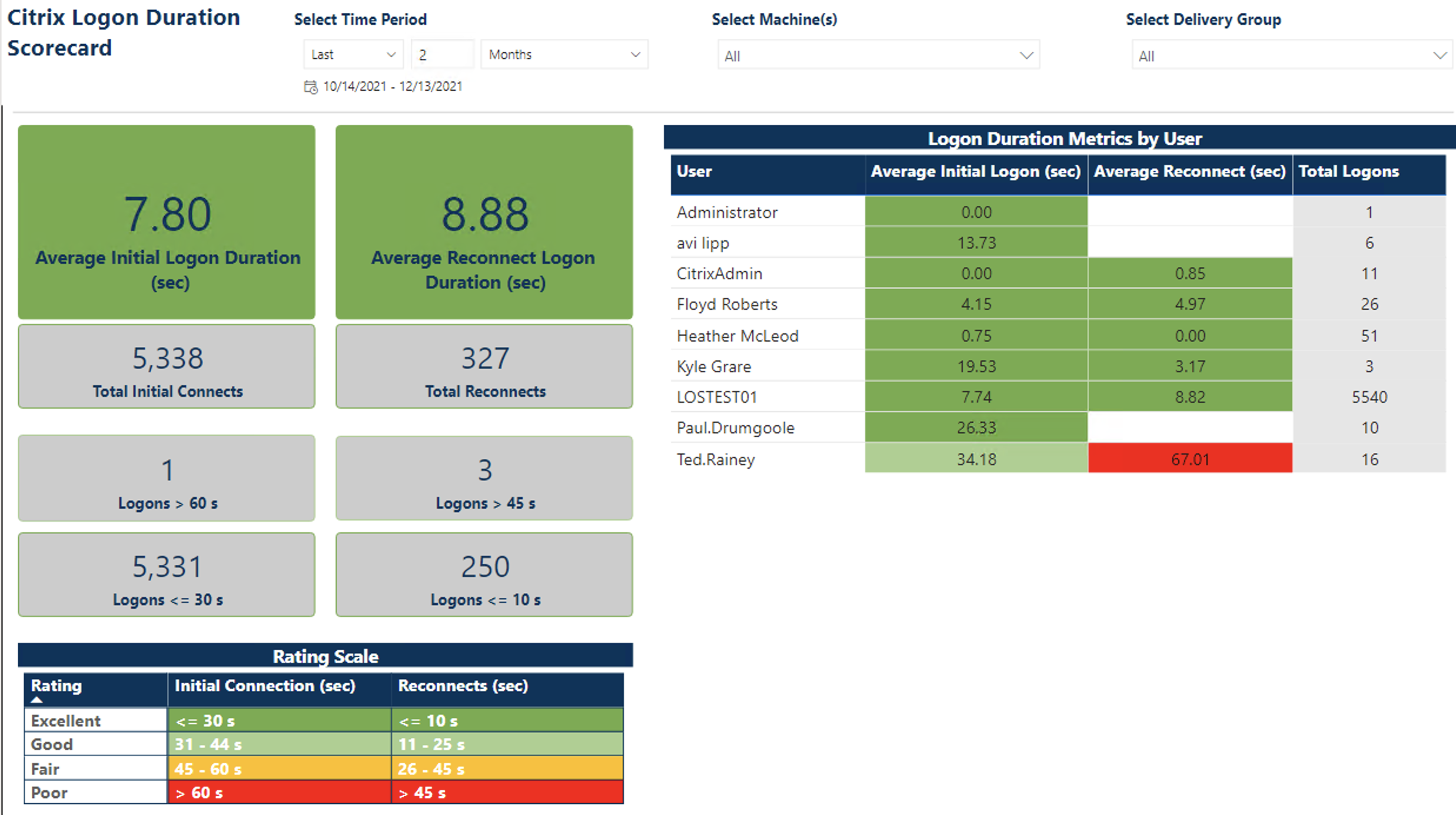 Figure 1 - LOD Score Report
Report Options
You can set the timeframe, from the last 1 day up to 30 days, to view the metric scores. You can additionally select specific devices, XenApp servers or VDI, and delivery groups.
Click any individual user to filter the entire score report by just that user's scores.
Click any metric column to sort the table by that metric to see which are the worst or best performing.
Trend Views
In addition to the score reports, you can track metric scores over time using the additional tab within the report.
Here you can select machines, groups, or users to view the score trend graphs.
Editing Category Thresholds
If the default best-practice thresholds do not meet your environments requirements, they can be adjusted using the Edit Parameters option within the Transform data menu.
From the Home tab, click on the arrow under Transform Data.

In the dialog that opens, adjust the values for each scoring category you'd like to change then click OK.
Troubleshooting
In some cases, depending on your environment, it may be beneficial to reduce the number of records to return when updating the report. This can be done using the Transform Data > Edit parameters setting:


Set the DaysToLoad parameter to a lower number and try loading the report again.

The EUE Score report reviews many thousands of data points for each user over the selected timeframe. It's very important the device on which you're running PowerBI meets the minimum required specifications - and in some larger environments - additional resources may be required.